Description
ATK Red canyon descender (updated model)
The canyon descender ATK has been developed by the French canyoneer Jean-Claude Schiavinato and has been brought to the market after several try-outs and prototypes. Please see the images in the product gallery for the many uses of this multifunctional descender.
This is a clearance sale article. The manufacturer has stopped the production of this item.
The ATK has been replaced by the ATK-D.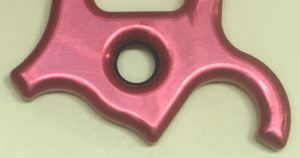 The advantages of ATK:
Simple and efficient to use
Easy to use with double ropes, also easy to brake/block your descent on double rope.
The upper jaw facilitates the management of the braking power without the risk of rope skipping
The lower jaw is enlarged in order to easily separate the double ropes
The shape of the ATK was refined to give users good control over the flow of the rope during descent
Specifications:
Material: high strength aluminum with aviation certificate
Production: France
Dimensions: length 125 mm x width 81mm x thickness of 10 mm
Weight: 125g
Compatibility: ropes 8.5 to 12 mm (double single and double)
Design: Jean-Claude Schiavinato (EFC monitor)
Click here to download the instructions for the ATK descender